60cm electric cookers are designed to fit most standard kitchens, including those pressed for space. They also offer efficient, even cooking with no need for a gas supply.
Many home cooks prefer to cook with electricity because it's quick and easy to use with no tricky burners or removable parts to clean.
Electric cookers are known for their efficiency and you'll notice less of an increase in kitchen temperature compared to gas models. Electric ovens are particularly well-loved because they're able to keep a consistent temperature throughout the cavity.
These 60cm models are ideal for most families and pack in a surprising number of features for their size. To select the cookers featured in this article, I've considered how well they perform and how they measure against the needs of a modern household. You'll also find a broad range of prices to take into account different budgets.
When you buy through links on Cooker Base, we may earn an affiliate commission. Learn more here.
Best 60cm Electric Cookers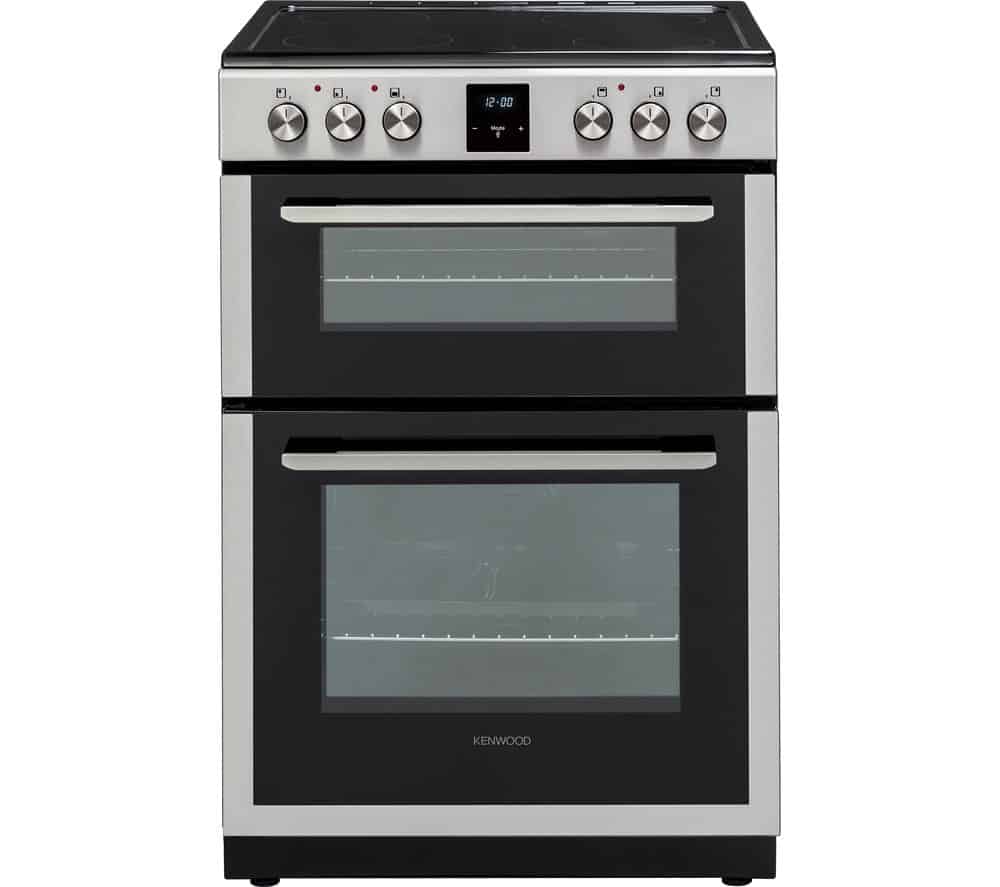 ---
ZANUSSI ZCV66060XE
Want a cooker that stands out from the crowd? The ZANUSSI ZCV66060XE combines a distinguished black and stainless steel finish with the brand's signature top-side control panel for a cooker that demands your attention.
This robust and stylish electric cooker comes equipped with two A-rated electric ovens. The bottom (main fan) oven has an incredible 77-litre capacity to tackle even the largest meals. Use the 39-litre top conventional oven to help cook multiple dishes at once. It also works as a grill, giving you a range of other cooking options and allowing you to do things like crisping up bacon or browning off fillets.
Both cavities heat rapidly and maintain their temperature throughout hours-long cooking sessions. You also get enamel coatings and triple-glazed viewing windows. Enamel isn't as good as catalytic liners, but it'll still make most spills relatively easy to wipe clean.
Zanussi has managed to fit such a large main oven in thanks to the top-side control panel. This means that the controls are facing you during use and they don't get in the way of the grill/second oven cavity. However, the other side of this is that they're very close to the ceramic hob. The hob features four burners, two small and two large.
Zanussi seem to have forgotten this cooker's timer in their interest to save space! For the price, I'd certainly expect to see one; however, it's simple to buy a standalone timer to keep nearby. Since that small issue is my biggest complaint, the Zanussi ZCV66060XE remains one of the best electric cookers available today.
Pros
Both large ovens have an energy rating of A
77 litre main fan oven
Second 39 litre oven with integrated full-width grill
Enamel oven coating in both cavities
Four-zone ceramic hob
Two triple-glazed viewing windows
Attractive black and steel appearance
Cons
The control dials can be a little to close to the hob if you use large flat pans on the front burners.
There's no built-in timer.
---
Related Article: Best Electric Cookers
---
RANGEMASTER Classic 60 Electric
When the form is as important as function, look no further than the stunning Classic 60 Electric. This compact offering from Rangemaster features all the superior construction and outstanding performance you would expect from one of their 110cm units but at almost half the price and size. The Rangemaster Classic collection's charm is the perfect pairing of traditional styling with the best of modern convenience and function.
You get two separate cavities, including a 56-litre main multifunction oven and a 35-litre conventional oven with an integrated grill. Fully programmable and a joy to use, the rotary knobs allow for better accuracy and a striking, professional appearance. There are six heating settings for each of the four hob burners, making it easier to find the right temperature for the job.
Unlike lesser electric cookers, which have tinny bodies and easily scuffed enamel tops, the Classic 60 Electric has a rugged, resistant design. No rattling metal when you sponge down the front of this cooker! Both ovens are fitted with catalytic liners too, cutting down on the need for scrubbing up stubborn spills.
If I could change anything about this brilliant electric cooker, it would be to add a window to the top oven. I would also like to see a larger window for the main oven. The baker-style window is absolutely charming but undeniably cramped. With those small exceptions, the Rangemaster Classic 60 Electric is as close to perfect as you can get in a 60cm electric cooker.
Pros
56 litre multi-functional main oven
35 litre second oven includes integrated grill
A-rated main oven
Catalytic lining in both cavities
Built-in timer with LED display
Eye-catching cream finish
Four-zone ceramic hob
Fast heating
Cons
No viewing window in the second oven.
The double glazed window in the main oven only provides a restricted view.
---
Related Article: 7 Best Freestanding Electric Cookers
---
INDESIT DD60C2CX.1
This excellent value electric cooker aims to please by mastering the basics and leaving out the filler. Although you won't find many extra features, its dependable performance and large cooking capacity are commendable at this price point.
To start, the Indesit DD60C2CX.1 features a stunning mirror appearance and two large A-rated ovens. The first main cavity boasts a 74-litre capacity fan-assisted oven, while the conventional top oven comes in at a staggering 42 litres. That extra bit of space makes all the difference when cooking large family meals or batch baking.
As is typical with this cooker style, the top oven door drops down and the main oven door swings out. This makes great use of space, especially if you have a narrow kitchen. Both ovens maintain heat for thorough, even cooking, though they take a while to preheat.
The ceramic hob burners are also slow to start, but I was impressed with their even heat distribution and ability to maintain temperature. If you're patient, this cooker's temperature control over time is excellent.
Occasionally I found the oven settings tricky to see against the stainless steel, and I had to bend down to see what I was doing. However, this minor inconvenience pales in comparison to this inexpensive electric cooker's reliable performance.
Pros
Two large ovens with energy rating of A
74 litre main fan oven
42 litre conventional second oven with integrated grill
Both ovens have a double glazed viewing window and catalytic liners
Four-burner ceramic hob
Reliable, even heating
Cons
The control markings can be tricky to see.
---
Related Article: Best Cookers Under £1000
---
KENWOOD KDC66SS19
The KENWOOD KDC66SS19 achieves a perfect balance between style, performance, and price. Ideal for the average family, this electric cooker's large capacity and simple maintenance help things run that much smoother in the kitchen.
The 67-litre fan-assisted main oven comes with catalytic liners for easy cleaning and a double-glazed viewing window. On top, the 37-litre conventional secondary is lined with enamel and doubles as a full-width grill. Both cavities have an energy efficiency rating of A.
As you would expect, this electric cooker comes with two small and two large ceramic hob burners. The large burners offer quick, even heating and will get even the largest pans to temperature in no time.
So what's the downside? The KENWOOD KDC66SS19 secondary oven can take longer than expected to preheat. Best to use the top oven as a grill except in emergencies or when you have time to wait. If you can overlook this issue, this affordable electric cooker will bring you many years of culinary joy.
Pros
Fan-assisted, 67 litre main oven
37 litre second oven with built-in grill
Both cavities have an energy rating of A
Catalytic liners in the main oven
Enamel coating in the second oven
Four-zone ceramic hob
Countdown timer and LED display
Cons
The second oven is slow to reach temperature.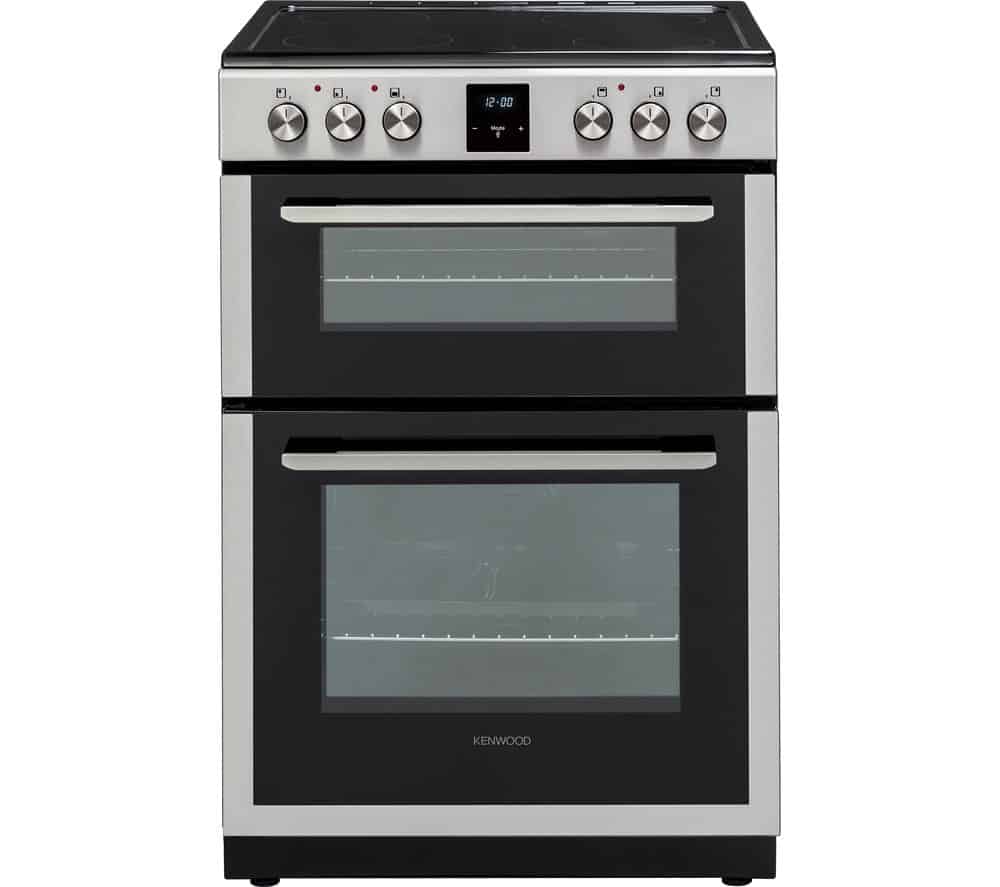 ---
Related Article: Best Cookers Under £600
---
Best Budget – Flavel Milano ML61CDS
Flavel has been able to create an excellent budget electric cooker with impressive functionality and a few features to make your life easier. It comes in an effective silver and chrome finish which looks like it belongs on a cooker with a much higher price tag.
The ceramic hob comes with four burners that tend to heat up reasonably quickly. If I had to be critical, I would say the spacing could be a little more generous, especially when using three or more of the hobs, but being careful in your choice of cookware will help here.
The fan oven comes in at 65 litres, which is impressive considering the price point. It is coated in enamel to make cleaning more manageable, and the glass is double glazed to contain the heat and reduce any noise from the fan.
The separate grill is variable and provides more than enough space to cook thick chops or even finish the tops of omelettes or other dishes. Although I would have liked it to have functioned as a top oven as well, this is one of this cooker's very few downsides.
The A energy rating, 60cm size, four ceramic hobs, good cooking space and overall good looks of the Flavel Milano ML61CDS makes it our budget electric cooker of choice.
Pros
Great value
65 litre ceramic coated main oven
Fan-assisted
Double glazed oven door
Spacious, variable grill
Four-zone, ceramic hob
Cons
No second oven
Slightly dated appearance
---
Related Article: Best Cookers Under £300
---
Electric Cookers Vs Gas Cookers
Electric cookers have become increasingly popular in the UK in recent years. This is due to the many benefits they offer over gas cookers. Here are some of the key differences between electric and gas cookers:
1. Cost: Electric cookers are typically cheaper to buy and install than gas cookers. This is because they require less installation work, and there is no need for a gas supply.
2. Efficiency: Electric cookers are more efficient than gas cookers, as they generate less heat loss. This means that they can save you money on your energy bills.
3. Safety: Gas cookers pose a safety risk, as they can produce dangerous fumes if not properly installed or maintained.
4. Oven performance: Gas ovens offer more even cooking than electric ovens. However, with advanced technology, this is becoming less of an issue for most modern electric cookers.
5. Installation: Electric cookers are easier to install.
6. Convenience: Electric cookers are extremely convenient and take less time to reach their optimum cooking temperature compared with some gas models.
7. Noise: Electric cookers tend to be quieter.
Electric Cooker Buyers Considerations
When looking to buy an electric cooker, there are a few key things you need to take into account.
1. Single or double?
Do you need a single oven or a double oven? Double ovens offer more flexibility, as you can cook different dishes simultaneously. However, they are also more expensive, require more space and use more energy.
2. Your budget
How much are you willing to spend on an electric cooker? You can find models starting at around £100/200, but they will not be as efficient or have as many features as more expensive ones.
3. Energy efficiency
One of the most important factors to consider when buying an electric cooker is how energy efficient it is. Some models come with an A rating which is the most energy-efficient available. The worst are G rated and should be avoided as even though they may be cheaper initially, the additional energy costs will soon mount up.
4. Functions
What functions do you need your electric cooker to have? Some come with ovens, hobs and grillers, while others just have one or two of these. If you want a model with all the bells and whistles, be prepared to pay more.
5. Capacity
How much food do you need to cook at once? Electric cookers come in different sizes, so make sure to pick one that's big enough for your needs. If you often cook for a large family or regularly host dinner parties, go for a model that has a bigger capacity.
6. Design
Finally, think about what design you want your electric cooker to have. Do you want a traditional look with an oven or something to fit with a modern kitchen?
Conclusion
Selecting a cooker is a very personal choice. What works for you might not work for someone else. To ensure you get the right cooker, take your time, do your research and consider if it has the right features and characteristics to match your lifestyle.
If you own any of these cookers, I'd love to hear your thoughts. Feel free to get in touch via the comments section below.