A gas range cooker offers you the ultimate in responsive, efficient cooking. They are often the first choice of professional chefs and ranges offer even more functionality than standard models.
A gas hob provides instant heat and allows you to make minute adjustments to the temperature. A well-made gas oven provides quick heating incredible fuel efficiency and different temperatures on each shelf.
For some extra support with your choice, read my article 9 questions you need to answer before buying a range cooker.
A gas range gives you a considerable expanse of cooking space and the larger burners allow you to reach heats that aren't possible on standard designs. I've included several different sized models to give you the best chance to find one to fit your home.
When you buy through links on Cooker Base, we may earn an affiliate commission. Learn more here.
Best Gas Range Cookers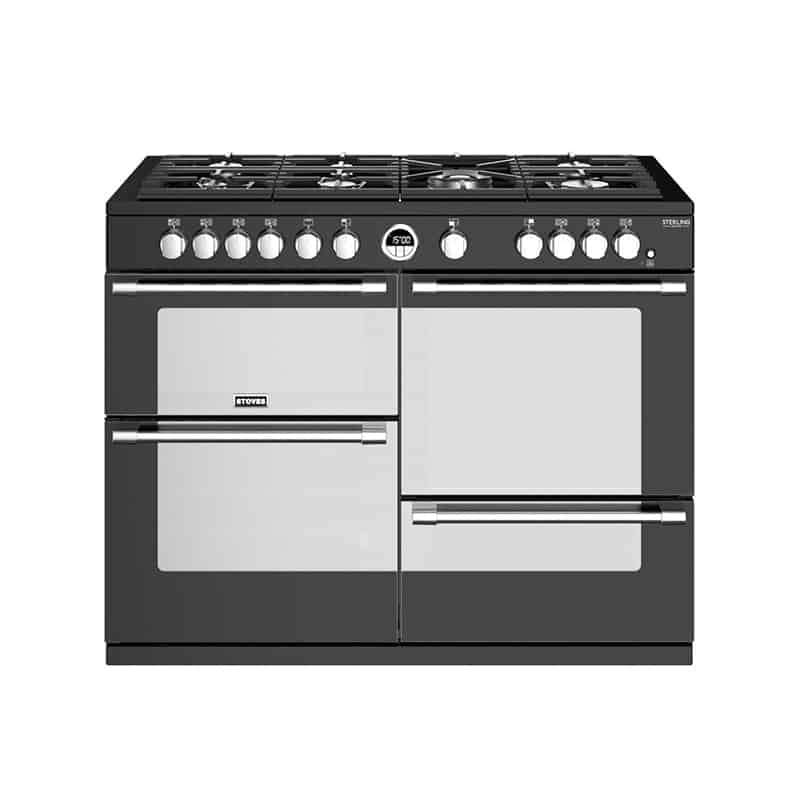 ---
Rangemaster Professional+ 90
The Rangemaster Professional+ 90 is the perfect complement to your modern kitchen with its contemporary black and chrome exterior and gorgeous geometric design. In addition to looking the part, this cooker also features modern functions and amenities that no serious home chef should be without.
First, this cooker features two large ovens, including one main 81 litre oven and a secondary 66 litre compartment. The main oven is fully programmable with a digital timer while the secondary oven is fan-assisted. You have the freedom to choose which oven is best for the dish you're preparing. Both ovens are outfitted with partial catalytic liners for no-fuss cleaning. In addition, the main oven has a handyrack which is fixed to the inside of the side opening door to allow you to check food without having to reach into the hot oven.
The variable gas grill above the main oven includes a handy glide-out rack that makes retrieving your food much safer and easier. The Professional+ 90's hob sports five manual ignition burners, each with cast-iron pan supports.
While I appreciate that the pan supports are made of cast-iron, I wish they were more robust and offered better support. Cookware can become unbalanced and rattle against the supports. The controls are also a little difficult to read and aren't intuitive. Though small, these issues may wear on you over time, so keep them in mind if you have your eye on this otherwise impressive gas range cooker.
Pros
Two large ovens and a separate grill
Partial catalytic liners in both main ovens
Impressive contemporary design
Large five-burner gas hob
Cast iron pan supports
The main oven features a handy rack
Glide out grill
Energy A+/A
Cons
The pan supports could do with being more heavy-duty
The controls can be hard to read
---
Related Article: Best 90cm Range Cookers
---
Belling Kensington 100G
Gas range cookers can be pricey, but the Belling Kensington 100G makes it affordable to bring a professional-grade 100cm cooker into your home. Despite the great price, there's no compromise on quality. This handsome cooker is well built and has all the functionality you need to make delicious family meals.
The Kensington 100G's gas hob features seven total hobs, including a wok burner. I appreciate that there is a small, medium and large burner all in the front row. It's a good selection that lets you cook most meals on the front burners instead of needing to reach around the hob awkwardly. Although not a thick as others, the included cast-iron pan supports are durable and keep pots and pans steady.
Both main and secondary ovens offer 64 litre capacities, while the included variable gas grill holds up to 35 litres. The ovens lack many – or any – functions but offer balanced conventional cooking with the benefit of enormous capacity. Lined with enamel, the ovens are easy to clean with regular maintenance. The fourth capacity is a handy storage cupboard, ideal for pots and pans or even if you want to warm plates.
As if the Kensington 100G wasn't already incredible value, it also comes with a wide range of accessories. They include seven total oven shelves, a grill trivet and of course the all-important grill pan handle. Belling's dedication to customer experience really shows with this great gas range cooker.
Pros
Smart, professional appearance
Four useful compartments
Two 64 litre conventional gas ovens
Both ovens are A rated for energy efficiency
Enamel lined ovens
Separate 35 litre gas grill
Seven-burner hob
Flame supervision safety feature
Accessories including plenty of shelves and a grill handle
Touch and dial controls
Cons
The main ovens only have basic functions
An enamel coating isn't as good as catalytic or pyrolytic liners
---
Related Article: Best Range Cookers
---
Rangemaster Classic 110 Gas
When you're lucky enough to have space for a 110cm cooker, you want one that will make a statement. The sizeable Rangemaster Classic 110 gas cooker sets the tone for your whole kitchen and is an instant conversation piece. Of course, it's also where you will cook family meals and expand your culinary prowess. This is a cooker that can deliver both undeniable style and unparalleled performance in one.
This stunning stove features six total gas burners, including both wok and griddle burners. The six burners feel roomy, but it's awkward that both medium burners are on the back row. I'm willing to overlook this design flaw because of the handy grill burner and included cast-aluminium grill. The grill is dishwasher safe and heats up quickly. It's perfect for making quick eggs in the morning or putting a sear on meats from the oven.
Below the hob sit two large ovens, one with 81 litre capacity and the other 69 litres. There is also a separate grill with glide-out shelving and a storage or warming compartment. The main oven features a useful handyrack which is fixed to the door to stop you having to reach into the hot oven. Both ovens also come with partial catalytic liners and triple glazed viewing windows.
It's difficult to fault this cooker, but I'd be remiss not to mention the thin, unbalanced cast-iron pan supports. I also don't like how small the oven windows are, and wish the second oven included an interior light. However, overall this delivers incredible functionality with a classic finish that other brands struggle to beat.
Pros
Large 81 litre main gas oven
69 litre second gas oven
Triple glazed oven windows
Partial catalytic liners
Separate grill and storage cupboard
Six-burner gas hob
Flame failure safety feature
Push-button hob ignition
Energy rating A+
Cons
No glass lid to cover the hob when not in use
Thin pan supports
---
Related Article: Best Value 110cm Range Cookers
---
Stoves Sterling Deluxe S1100G
Combining brilliant craftsmanship and practical features, the Stoves Sterling Deluxe S1100G is in its own league, standing on it's own compared to other gas range cookers. It features a seven-burner gas hob with an extra-large wok burner. The burner layout is ideal and the cast-iron pan supports are some of the best I've seen.
The four gas ovens include two large main ovens, a secondary oven/grill combo and a slow cook compartment. The main oven's spacious 66 litre capacity is perfect for big roasts or multiple dishes and has an easy-clean catalytic lining. The second conventional oven is also 66 litres but only features wipe-clean enamel lining. Both ovens enjoy enamel linings that keep food messes from setting in. All four cavities have double-glazed, viewing windows that allow you to keep an eye on your dinner while it's cooking.
Not only is the Sterling Deluxe durable and immensely functional, but it also has an impressive A rating for all cooking compartments. The only downside I could find to this beast is that the large glass front marks quickly so needs to be wiped clean regularly to keep the finish in good condition.
Pros
Stunning modern finish
Four large cooking cavities
66 litre main oven
66 litre second oven
27 litre gas oven/electric grill combo
41 litre slow cooking oven
Catalytic liner in the main oven
Double glazed oven viewing window
Seven-burner gas hob
Well-designed pan supports
Energy rating A/A/A
Cons
The glass front marks and stains easily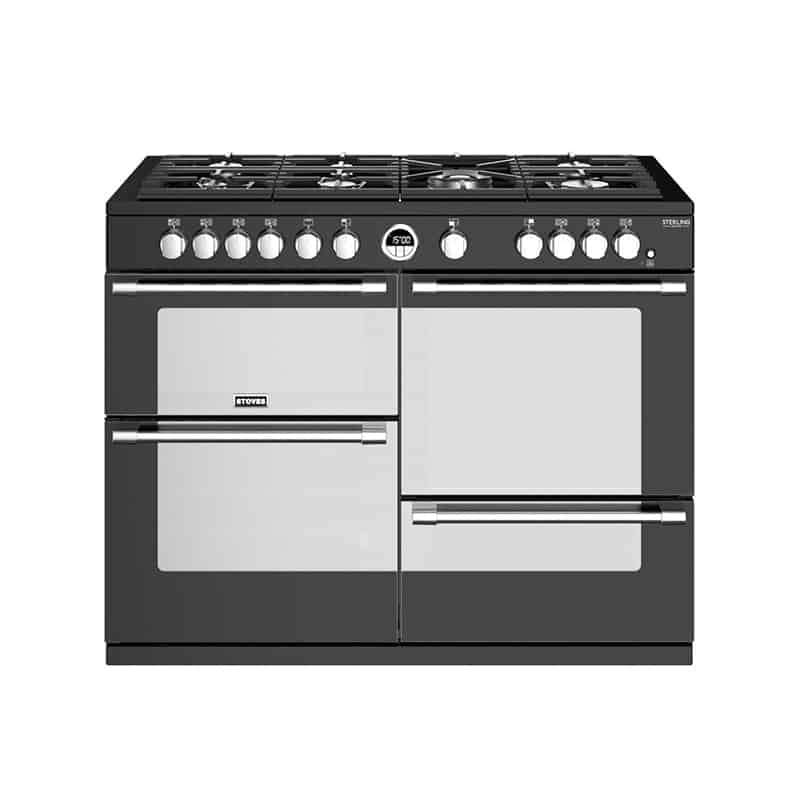 ---
Related Article: 5 Best Gas Cookers
---
Best Value – Kenwood CK407G 90cm
The Kenwood CK407G may only be 90cm wide, but it creates a big impression in any kitchen. This stunning gas cooker gets maximum efficiency with five total gas burners and a large 67 litre fan-assisted main oven alongside a smaller 49 litre secondary oven. The main oven doubles as an integrated grill for when you want to cook up a snack or two in a hurry.
Just as this cooker's timeless black and steel exterior suggest, everything from the knobs to the oven hinges is built to last. For instance, both ovens have double-glazed doors and catalytic liners, making them more energy-efficient and easy to maintain.
The spacious hob features a variety of burner sizes including an extra-large and responsive wok burner. They are all able to heat incredibly quickly and have automatic ignition to make things super simple. There is also a flame supervision safety feature to ensure that the gas supply is switched off of a flame goes out. Additionally, the pan supports are made of solid cast-iron for lasting performance.
This is a show stopping oven that provides exceptional value for money. For me, the only downsides are that each oven only comes with one shelf each and the main oven is relatively slow to reach temperature.
Pros
Large 67 litre main oven/grill combo
Secondary 49 litre oven
Both ovens have double glazed doors.
Five burner gas hob
Automatic ignition
Flame supervision safety feature
Stylish black and stainless steel appearance
Energy rating A
Cons
Some of the fittings have sharp edges.
The main oven takes a while to reach temperature.
---
Related Article: Best Value Gas Cookers
---
Conclusion
In the last ten years gas cookers have improved massively and are now a popular choice for the home cook. They offer excellent fuel economy and great value for money as well as an incredible cooking experience.
If you've any questions regarding gas range cookers or think I've missed some products out that you'd like me to add, please leave a message in the comments section below.