Best Value Cheap Gas Cooker
I've written a few articles on Cookerbase.com already about "cheap" or "value" cookers. The latest comes in the form of the best value cheap gas cooker.
One thing that I will say is that everyone's definition of cheap is likely going to vary. So, it's for this reason that I've taken 3 price points of around £150, £250 and £350, with each falling into someone's best value or cheap category.
Another point that I'd like to make before diving in is that the overall quality of the cookers that I tested were much higher than I thought. I've reviewed cookers worth multiple thousands of pounds and yes, there is a difference, the jump isn't as big as I maybe though it was or even should be.
The biggest differences came in the form of build quality and features. Now, build quality is something that can be subjective. For £150, a company can only do so much!
Features are something that's going to be dependent on the user. If you're looking to kit out a flat that you use only on weekend's living outside of the city for example, then you aren't going to need thinks like catalytic liners and steam cleaning.
So, below you've got my list of the best value cheap gas cookers on the market to date.
Best Value Cheap Gas Cooker
ESSENTIALS CFSGSV18 50cm Gas Cooker
At 50cm, the Essentials CFSGSV18 may not be very large, but neither is your budget. When you're looking for the absolute best bargain in cheap gas cookers, this inexpensive gem is tough to beat.
The Essentials CFSGSV18 costs less than you're likely to spend on food this month, so it's easy to be sceptical about its abilities. Before passing judgment, however, consider this cooker's 45L main oven, which doubles as a full-width variable grill. Complete with enamel lining, this cavity is easy to keep tidy with regular care.
The oven also comes with a removable, triple-glazed viewing window that anyone can lift out for no-fuss cleaning. That's one of the features that make this cheap gas cooker such a great value compared to the competition. Another high point is that Essentials remembered to include both a grill pan and pan handle – something even ₤1,000+ cookers miss.
One strange thing about this cooker is that the oven uses gas while the grill uses electricity. This is an unusual combination that requires additional setup. It's such an odd and inconvenient choice that I can only assume it was a cost-cutting measure. Keep this in mind if you want or need a true all-gas cooker.
Adding to the confusion of the electric grill, the gas hob features simple manual ignition. If Essentials is going to force users to install an electric line to use the grill, why not at least include automatic ignition? Again, it comes down to cost, so just be sure to keep matches or a lighter handy to light this cooker's burners.
On the upside, the gas burners are highly responsive and come in a variety of one small, one large, and two medium. The enamel pan supports are surprisingly balanced, though the smooth finish doesn't offer a lot of friction against cookware. Overall, a very dependable hob that's easy to clean.
At this price, no one expects a five-star cooker. If you have reasonable expectations, however, the Essentials CFSGSV18 will meet them all. This is a safe, dependable gas cooker that small families with small budgets will love.
The Essentials CFSEWH18 50 cm Electric Solid Plate Cooker is a basic cooker that's suitable for family cooking.
back to menu ↑
LOGIK LFTG50W16 50 cm Gas Cooker
As with most things in life, you get a bit more if you're willing to spend a bit more. Economical in every sense of the word, the Logik LFTG50W16 is just a little more expensive than the first cooker on this list, yet offers some great additional features.
The first and most noticeable difference is that the Logik LFTG50W16 includes a main oven and separate grill. This is quite an accomplishment considering this cooker's 50cm frame. And, unlike the Essentials cooker, the Logik LFTG50W16's 19L variable grill uses gas, not electricity.
The separate grill gives this cooker a more expensive look and functionality than its modest price tag suggests. Unfortunately, it takes a long time to heat up and is only really useful on its highest settings.
Including a separate grill means sacrificing oven capacity, too. This cooker's conventional oven only holds 36L, so I can't recommend it for large families. For couples or singles, on the other hand, this may be the perfect size. No use wasting the large capacity of more expensive cookers when you only need space for a couple people.
Even knowing how small the oven is doesn't excuse the fact that this cooker only comes with one shelf. The included oven shelf is sturdy at least, and features a back bracket to keep dishes from sliding off. Still, you'll need to buy an extra for multi-tier cooking.
The Logik LFTG50W16 comes with a solid arrangement of gas burners, featuring typical large, medium, and small sizes. Manual ignition lights reliably and flames stay lit even at low temperatures. If the flame ever does go out, so will the gas thanks to this hob's safety features. The smooth enamel pan supports are actually rounded, making them easy to clean but a bit unstable for cookware.
Giving you all the functionality of a larger oven in a compact 50cm frame, choose this cooker for your house, flat, caravan, or anywhere else.
At 50 cm, the Logik LFTG50W16 is compact enough to fit into even the smallest kitchens.
back to menu ↑
FLAVEL ML61NDSP
You may need to save a little extra in order to afford this handsome cooker, but the Flavel ML61NDSP is still well within most budgets and totally worth the wait.
At a full 60cm, this cheap gas cooker accommodates a spacious 63L main oven and 32L separate gas grill. With almost 100L total capacity, the Flavel ML61NDSP blows the competition away and is suitable for families large and small. Crisp everyone's sausage at once in the full-width grill, or bake your main course together with side dishes in the main oven.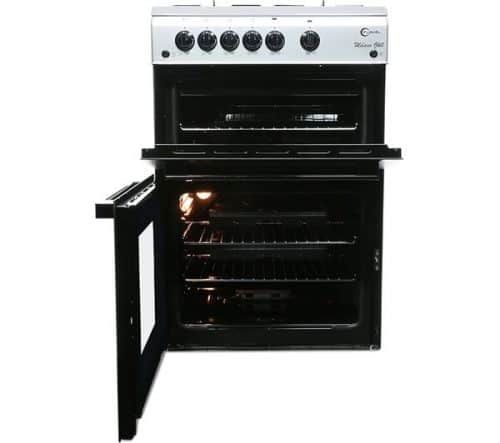 Quality construction is evident in the most important details of this cooker, including the sturdy oven doors, thick side walls, and weighty chrome knobs. At this price point, I also like to see features like a minute minder or glass top for the hob, but unfortunately the Flavel ML61NDSP skimps on these details.
Moving on to the gas hob, the Flavel ML61NDSP keeps things simple with four burners. These include one small, one large, and two medium-sized burners. Nothing stands out about this hob except its safety feature, which ensures that gas is never leaking unchecked into your home. The enamel pan supports are well-balanced and easy to clean, but regardless of whether you choose this cooker in silver or white, it is difficult to keep the hob wells looking spotless.
Unlike many cookers in this price range, the Flavel ML61NDSP features convenient automatic ignition. As you may expect, however, it's not the most reliable. You may have to try a few times before getting the pilot to light. Whether this is better or worse than manual ignition is up to your preference, though it is certainly frustrating when an automatic pilot won't light.
What I like most about this cooker is that it doesn't feel cheap. The word "tinny" is often used to describe cookers you just know will break down in a few years, but the Flavel ML61NDSP is built to last with quality components and craftsmanship. Look no further for the ultimate value in cheap gas cookers.
When you need large oven space with the variable heat of gas hobs, the Flavel ML61NDSP Gas Cooker provides the ideal solution.
back to menu ↑
Final thoughts
It's been seriously interesting getting to grips with all three of these cookers. I know the standard of manufacturing in the cooker industry has grown significantly, but I didn't realise by how much.
The Flavel has to be the overall winner for me, but then, it is the most expensive at the same time. Whilst I'm fully aware of how well Flavel have done in recent years, for those that don't know, then I realise that the name could put you off.
But, I was so impressed with the Flavel ML61NDSP that I think in a blind test against any Smeg, Rangemaster or Stoves, you'd be pushed to work out which was the higher priced product.
The biggest difference that I found in these cookers was that of their energy consumption, with the Flavel being almost double that of the Logik at 2.5kWh and over 3 times that of the Essentials gas cooker.
I've stated on plenty of articles now just how little you have to spend to get a quality gas cooker that I'm starting to bore myself, but it is true.
These cookers may be listed as "cheap" or "value" but, they are able to stand shoulder to should with cookers that are 2 and even 3 times their price, which is as big a compliment as I can pay them.